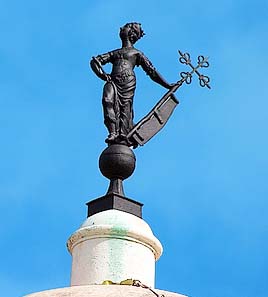 The Giraldilla is one of the most representative and ancient symbols of Havana City.

Legend of love, history, art, symbol….. everything enclosed in this little statue, made by the Cuban sculptor Jeronimo Martin Pinzon in the 3rd decade of the XVII Century.

On March 20th, 1537, Spain sent to Cuba its 7th Spanish Governor Don Fernando de Soto. The king sent the Commentator to Cuba for him to prepare an expedition to Florida because Cuba was very close to the Peninsula discovered by Ponce de Leon.

Havana's Harbour, first known as Cardenas' Harbour, was the meeting point of all the Spanish ships in the New World, and it was also the target of corsairs and pirates of the Caribbean. Then, on May 12th 1539, Hernando de Soto started his trip to Florida leading an expedition formed by 9 vessels and 537 horses selected among the best of Cuba.

From that moment on, as an expressed order of the Governor, his wife Doña Isabel de Bobadilla was in charge of the country's management. The legend says that from that day on, Doña Isabel spent hours in the highest part of the Castle waiting for a ship that bring her husband back to her.

Soto never came back. He died y the Mississippi river on June 30th, 1540 but his in loved wife kept waiting for him.

The myth assures that the great passion of Isabel for Hernando inspired the sculptor Martin Pinzon to make the Giraldilla, which was melt in bronze and located in the highest part in the North West side of the Castillo de La Real Fuerza by order of the governor Juan de Bitrian y Viamontes between 1630 and 1634.

The Giraldilla is a weather vane with the shape of an aborigine woman who has a palm tree trunk in her right hand and in her left hand, the Calatrava cross in an flagpole. It is 110 cm tall, it has a medallion with the author's name on her chest and the skirt raised on her right thigh.

The weather vane was respected by lots of tropical hurricanes for centuries but the cyclone of October 20th, 1926 wrested her from her pedestal and threw her into the ground.

The figure on the Real Fuerza now a days is a replication because the original one is in the City Museum, former Palacio de LOs Capitanes Generales, where everyone can admire it and it is protected from the hurricane winds that do not know the love story that it encloses and its value to the people of Havana City.