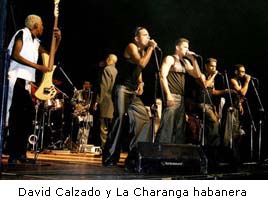 In the late 1970s, the Cuban mass media was involved in a major polemic. Was the salsa a new genre or - as could be seen from those interpretations arriving from the United States and the Caribbean - was it just Cuban son with new electronic sonorities?

Some specialists accused the creators of the salsa of theft, while others took advantage of the popularity gained by salsa to then spread, inside Cuba and abroad, the new creations of Cuba's so-called sonero groups.

In reality, after losing the traditional record markets in the United States because of the economic embargo, Cuban musicians were no longer able to make their presence felt in that country. On the other hand, the demand for Cuban music didn't decrease, which is why the authors and groups from the island then living in Florida and New York took the lead, as well as the Dominicans and Puerto Ricans, in the main.

It was singer Celia Cruz who around that time gave the clearest definition when she said that "salsa is a commercial name to group together Cuban rhythms." That's precisely what had happened: Johnny Pacheco and Jerry Mazucci, managers of the Fania record company (the firm's name, by the way, was taken from a piece by Matanzas composer Arsenio Rodríguez, "El ciego maravilloso"), baptized the salsa as such in New York in 1973.

A Cuban band, Los Van Van, led since its creation in 1969 by bassist Juan Formell, is believed to be the point of origin of the salsa. This group with a singular stamp, known as the Chronicler of the Salsa, won the Grammy awarded to Latin Music in 2000.

Other outstanding Cuban groups are NG La Banda (founded in 1988 by flutist José Luis Cortés, "El Tosco", with virtuoso musicians from Los Van Van and Irakere bands), Adalberto Alvarez y su Son (established in 1983 and perhaps the band that most sticks to the essence of the son), Paulito FG y su Élite, La Charanga Habanera, the Sampling vocal group and the salsa singer of the moment, Isaac Delgado. Other significantly important artists are Panamanian of Cuban origin Rubén Blades and Puerto Rican Willie Colón (both former Fania musicians and who subsequently have had a successful career), as well as Colombian Joe Arroyo (called "El Sonero de América"), Venezuelan Oscar D`León (called "El Salsero Mayor") and Puerto Ricans Andy Montañez, Jerry Rivera and Mark Anthony. Among the groups that made history are El Gran Combo de Puerto Rico, El Trabuco Venezolano, Dimensión Latina, Orquesta La Luz and Fania All Star.