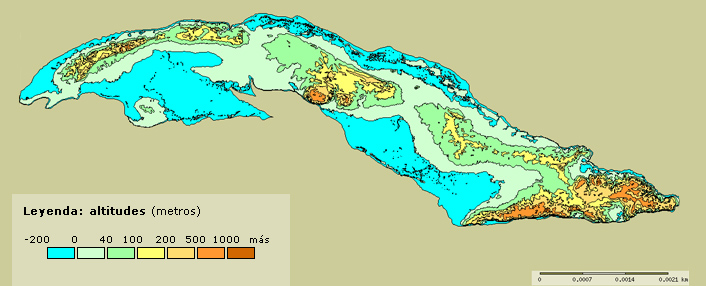 Approximately a quarter of the Cuban surface is formed by mountains and hills, and the rest are plane grounds. The mountain areas are sparsed around the island.

The main mountain groups are: Guamuaya or Sierra del Escambray, Guaniguanico and Sierra Maestra, this last one is located at the southwest of the country and it is the highest, the biggest and the largest. There is the Sierra de Turquino in it, which has the highest mountain in the country, Turquino Peak with 1 974 meters over the sea level.

Most of the grounds in the island are relatively fertile.

Natural Resources

One of the most extraordinary natural elements in the Island are the great amount of caves formed by limestone.

Most of the rivers in Cuba are not long. The main are: Cauto, Zaza and Sagua la Grande. The coast line of Cuba is very irregular and it is formed by a lot of gulfs and bays; such as the Gulf of Batabano and the one of Guacanayabo; its total length is about 3 740 Km.

There are a lot of natural ports in the Island. The most highlighted are the ones of Havana City, Cardenas, Matanzas and Nuevitas in the north coast and Guantanamo, Santiago de Cuba and Cienfuegos in the south coast.