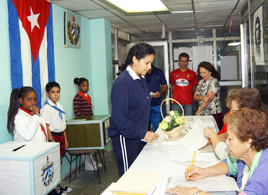 How are Electoral Colleges created?
In each electoral district, depending upon the number of electors, as many Electoral Colleges as necessary are created. Care is taken to have them close to the electors' residences and to include, as maximum, 350 electors.

What are the components of Electoral Colleges?
On election day, each Electoral College sets up an Electoral Table made up of a President, a Secretary, a member and two reserves, appointed by the electoral district Electoral Commission.

How many members make up the quorum at the Electoral Tables?
Three members of the Electoral Table constitute quorum.

If no quorum exists for the Electoral Tables, the attending member or members shall appoint the replacements needed from the electors present at the Electoral College.

When do the Table and the Electoral College expire?
The Table and Electoral College expire once they have completed their functions and their President has delivered the voting results and all the other documents used in the electoral or referendum process to the electoral district Electoral Commission.

What hours are established for voting?
Voting takes place between seven a.m. (7) and six p.m. (6), and even though all the electors may not have voted, election day ends at that time.

If prior to six o'clock in the afternoon all the electors in the Electoral College have voted, the President may terminate the voting process after the last elector casts his/her ballot.

In exceptional cases, the National Electoral Commission may indicate different voting hours in one or several electoral districts or electoral colleges.